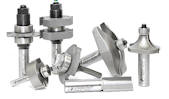 SHARPENING SERVICES

All our sharpening is done in house with the Most High Tech Machinery that restores your tool's cutting edges to near original condition.
Saw Blades
Carbide Blades
Router Bits
Shaper/Cutter Heads
Planer Knives
Band Saw Blades
Chain Saw Blades
Drills
And more...


We also sell new blades and router bits from Amana , Velepec , FS Tool , Freeborn , Morse Tool and we make Custom Saw Blades and Custom Router Bits.
We provide sharpening services to the Tri-State Area out of our Clifton, NJ based facility allowing our fleet to Pick up & Delivery to you.

We accept sharpening jobs, big or small from all over the

country and offer a 48 hour or less turn around with most orders.